Mahr
|
Product Announcement
Mahr® Inc. Unveils Highly Precise, Intuitive Digimar® 817 CLT Height Measuring Device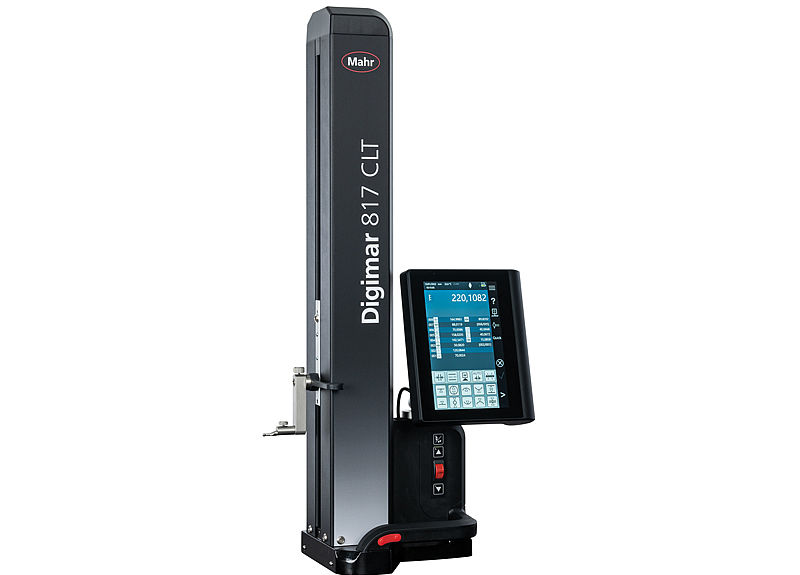 The new gage is available in three measuring ranges: 350 mm, 600 mm, and 1,000 mm, with multiple logging and data transfer options for easy measurement data processing.
The touch display ensures that the new Digimar 817 CLT can be operated as easily as possible: large buttons, clearly structured menus, and self-explanatory icons enable fast, fluid use and accelerate the measurement cycle. Side function keys and thumbwheel allow the measuring probe to be quickly positioned for fast simple measurements. Handles on both sides and the integrated air bearing guarantee that the device can be moved precisely and effortlessly on the measuring plate.
Sophisticated ergonomics
The touchscreen works similarly to smartphones and tablets. Keys are arranged so that frequently used functions are read for easy access. Measurements can be started conveniently via the touch display, the thumbwheel with integrated arrow keys or by manually moving the measuring slide. Two pushbuttons for operating the air bearings are integrated into the handle and enable safe and sensitive guidance of the instrument for left- and right-handed users. And the swivel mounted touch display can be rotated or tilted as desired so it's always at eye level with the user, whether sitting or standing.
Save data conveniently
The new Digimar 817 CLT provides a variety of interfaces for saving measurement data. Data transfer is possible both wirelessly and by the new duplex cable via the proven MarConnect data management software. It also allows the transmission of a measuring device ID to ensure the traceability of all measurement results. For measurement reports, users can choose between complete representations in PDF format, sending individual measured values to a PC, Bluetooth printer or saving as a TXT file.
About Mahr Inc.
When customers are faced with a metrology need, they turn to Mahr Inc., for unmatched industry expertise. Mahr Inc.'s knowledgeable, experienced team has made the company a leader in precision measurement for more than a century.
Mahr Inc., a member of the Mahr Group, has been providing dimensional measurement solutions to fit customer application needs for more than 160 years. The company manufactures, markets and supports an extensive portfolio of dimensional measurement equipment…handheld gages to technically advanced systems, measuring form, contour, surface finish, length and optical metrology solutions for customers within but not limited to aerospace, automotive, medical and optical production industries. Mahr Inc. is also well known as a producer of custom-designed gages and a provider of calibration and contract measurement services. Mahr Inc.'s calibration laboratories are accredited to ISO/IEC 17025:2005 NVLAP Lab Code 200605-0 (see our Scope of Accreditation for accredited calibration processes). For more information, visit www.mahr.com