Mahr®'s George Schuetz, Director of Precision Gages, Honored with ASQ Hromi Medal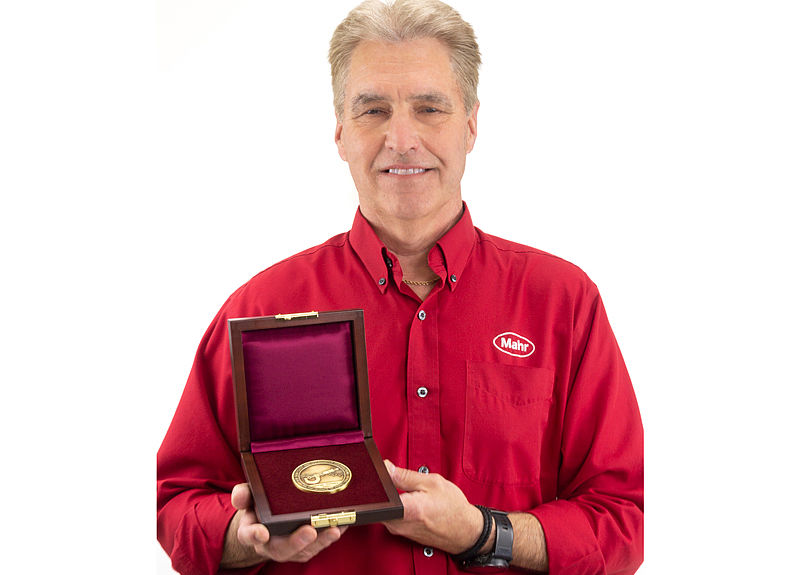 Each year, ASQ recognizes outstanding leadership in quality. The Hromi Medal recognizes Schuetz for his significant and noteworthy contributions to the science of inspection and/or the advancement of the inspection profession including publication of more than 350 articles related to inspection and gaging. The award also acknowledges his ongoing, active support for new product development and his devoted service to the American Measuring Tool Manufacturers Association. The medals are the highest distinction for service from ASQ.
Schuetz has worked for more than 40 years in measurement applications areas for mechanical and digital indicators, mechanical gages, air tooling, electronic products, special gaging designs, surface finish, and geometry gaging. He has also lectured at various colleges, ASME meetings, NCSL conferences, IMTS, and Quality Expo. In addition to his published articles, Schuetz authored a book, Quality Gaging Tips.
"The Hromi Medal is a great honor, and we are thrilled to congratulate George for this achievement," said Bryan Orr, Vice President Sales Americas / Executive Director Mahr Inc. "This is a powerful recognition of his lifetime of commitment to helping customers achieve quality."
ASQ is the world's largest network of quality resources and experts. The Hromi Medal is conferred by ASQ in conjunction with its World Conference on Quality and Improvement May 24-28, 2021. For more information about ASQ awards, visit the ASQ website at asq.org/about-asq/asq-awards.
About Mahr Inc.
When customers are faced with a metrology need, they turn to Mahr Inc., for unmatched industry expertise. Mahr Inc.'s knowledgeable, experienced team has made the company a leader in precision measurement for more than a century.
Mahr Inc., a member of the Mahr Group, has been providing dimensional measurement solutions to fit customer application needs for more than 160 years. The company manufactures, markets and supports an extensive portfolio of dimensional measurement equipment…handheld gages to technically advanced systems, measuring form, contour, surface finish, length and optical metrology solutions for customers within but not limited to aerospace, automotive, medical and optical production industries. Mahr Inc. is also well known as a producer of custom-designed gages and a provider of calibration and contract measurement services. Mahr Inc.'s calibration laboratories are accredited to ISO/IEC 17025:2005 NVLAP Lab Code 200605-0 (see our Scope of Accreditation for accredited calibration processes). For more information, visit www.mahr.com
About ASQ
ASQ is the leading membership association to help quality professionals achieve their career goals and drive excellence through quality in their organizations and industries.
ASQ provides expertise, knowledge, networks, and solutions to a global membership of individuals spanning more than 130 countries. ASQ was founded in 1946 and is headquartered in Milwaukee, Wis., USA. Learn more about ASQ's members, mission, technologies and training at asq.org.